About Us
Founded in 2015, The Cardinal Group II offers professional development consulting and training curricula development covering topics including executive leadership, communications training program design and interpersonal communications for police service professionals.
TCGII brings an innovative approach to training design and delivery by incorporating its "Ultimate Outcomes" philosophy, allowing forward-thinking organizations to maximize their effectiveness by deliberately targeting specific behavioral changes of its employees. These behavioral changes translate into enhanced performance, higher quality interactions and achievement of organizational goals.
The Cardinal Group II develops training curricula utilizing best design practices identified to maximize retention of knowledge and skills in adult learners. This adult learning approach utilizes instruction strategies that incorporate the Experiential Learning Cycle. ELC leverages the adult learner's personal and professional experience to achieve training objectives and provide participants with job-related context. Allowing them to effectively operationalize course topics into their daily duties and tasks. The Cardinal Group II is comprised of public safety professionals, curriculum design experts, and research partners in a variety of fields and disciplines.
Our Team
Jerry L. Clayton, CEO
Jerry L Clayton is a 30-year criminal justice professional with operational and executive experience in police service, corrections and special weapons and tactics. Jerry has been a certified criminal justice trainer and instructor for more than twenty-five years, specializing in numerous areas, including; Cultural Diversity, Bias-Free Policing, Organizational Management and Leadership.
Jerry provides training, compliance monitoring and subject matter expert consulting services to a variety of private and public sector clients, including the United Nations, United States Department of Justice, the National Sheriff's Association and the American Civil Liberties Union.
Jerry has leveraged his experience and training to deliver progressive instruction to his clients based on an "Ultimate Outcomes" philosophy.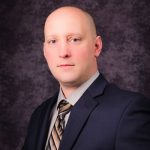 J. Eric Waddell, CLO
J. Eric Waddell is a 20-year public safety professional specializing in public safety communications, training curricula design and instructor development. Eric has designed adult learning based courses for police service professionals, public safety dispatchers, corrections officers and other government agencies. In addition to curricula development, Eric is a frequent presenter at the Michigan APCO and NENA conferences covering topics ranging from interpersonal communications to effective leadership.
Eric is the TCGII lead developer of virtual curricula transitions and online course development projects using a variety of platforms such as WebEx Training, GoToTraining, Moodle, LearnDash and others.
Our Clients